DISCOVERY, INC.
SUMMER 2019
INTERNSHIP

In the summer of 2019, I was fortunate enough to have been an intern on the Digital Product Team for Discovery, Inc. in New York City.
During my time at Discovery, Inc. I worked on two main projects (click to be taken straight there!):
︎ Discovery Explorer
︎ ID Channels Feature (Intern Project)
My daily workload comprised of analyzing use cases across a range of devices and digital platforms, evaluating and creating critical user flows, rapidly ideating, iterating, and creating high fidelity prototypes for different stages of the holistic streaming experience on both mobile (iOS) and TV (Roku & AppleTV).
I also made many presentation slide decks. So many.
SKILLS
PRODUCT DESIGN
UI/UX DESIGN
USER RESEARCH
USER FLOWS
PROTOTYPING


PROGRAMS
SKETCH
MURAL
INVISION
FIGMA


Discovery Explorer is Discovery's
first direct-to-consumer streaming service
that congregates all of Discovery's nature/science/technology content onto one dynamic platform across mobile and TV.
---
Due to an NDA, I cannot go any more in depth of the nature of the work that was done for the product until its release, but please email me at cpark12@risd.edu if you would like to further discuss my experience working on this product!
sample of iOS mobile onboarding screens that I created during my time at Discovery, Inc.

KEY FEATURES
As an intern, I worked on the following features and strived to design solutions to the following questions:

︎ Onboarding for New Users
How can we make it as easy as possible to sign up for our streaming service and reduce the number of steps that the user needs to take before creating their account?

Where in the onboarding process can we identify areas for customer support and how will we address them?

︎ Authentication for Returning Users
How can we optimize the authentication process so users can enter the app seamlessly and quickly?

︎ Profile Setup & Management for New & Returning Users
How can we provide the tools for the user to curate a personalized experience and help them find content that are relevant to their personal interests?

Where in the user journey can we find opportunities for our user to discover new content on our platform?

I had the opportunity to partner with a product management intern to design a speculative content-surfing feature for Investigation Discovery on Roku.

I was responsible for user research, mapping user journeys, ideating, wireframing, and prototyping.
INDEX
︎ Problem
︎ User Research
︎ Design Goal
︎ Prototyping



PROBLEM

Discovery's Digital Analytics team reported that there was a pattern in user behavior where users were spending increasing amounts of time on the landing page of Discovery's video streaming apps and exiting out of the app without selecting content to watch.
USER RESEARCH

After conducting online research to investigate why users end up exiting the app, we found that many users experience a phenomenon known as decision paralysis.

Also defined by psychologist Barry Schwartz as the "paradox of choice," an increased range of choices allows people to achieve objectively better results,but it also leads to greater anxiety, indecision, and dissatisfaction.

As part of our research process, we conducted interviews with experts on user viewing behavior. "One effect (of choice), is that it produces paralysis, rather than liberation" says Kate Shahan, Discovery's Senior Manager of Digital Consumer Insights, during our interview. "With so many options to choose from, people find it very difficult to choose at all."


PAIN POINTS
From our research, what can we identify as key issues that causes our users to exit the app instead of streaming content?
DESIGN GOAL
Design a feature that that minimizes decision paralysis and maximizes user retention
︎
Reduce the number of steps
the user must take during the content browsing journey to begin streaming content to ultimately
decrease bounce rate
︎
Help our user easily access content that is
relevant to their interests
so that they have a higher probability to stay in the streaming app
SKETCHES & WIREFRAMES
While examining the the user's journey starting from entering the app to when they start streaming content, I organized this potential to three main steps:

1. Accessing Channels
2. Selecting a Channel
3. The Video Player

A NEW ADDITION TO THE NAVIGATION BAR
In order to access the Channels Page, the user must select the ︎ icon that has been added to the top navigation bar.

Why the ︎ icon?
Shuffle indicates some sort of randomization and is a universally familiar icon to users.

We user tested introducing new symbols in the Navigation Bar, but found that most users weren't willing to click on an on unfamiliar symbol.



WELCOME TO THE CHANNELS PAGE!
Our user research indicated that while users liked to not have to make a decision on a single piece of content, users found it jarring to be automatically launched into a video player after clicking the ︎ icon.

Therefore, we decided to make a page that would house four "channels" that are the main categories of the most popular content streamed on ID GO.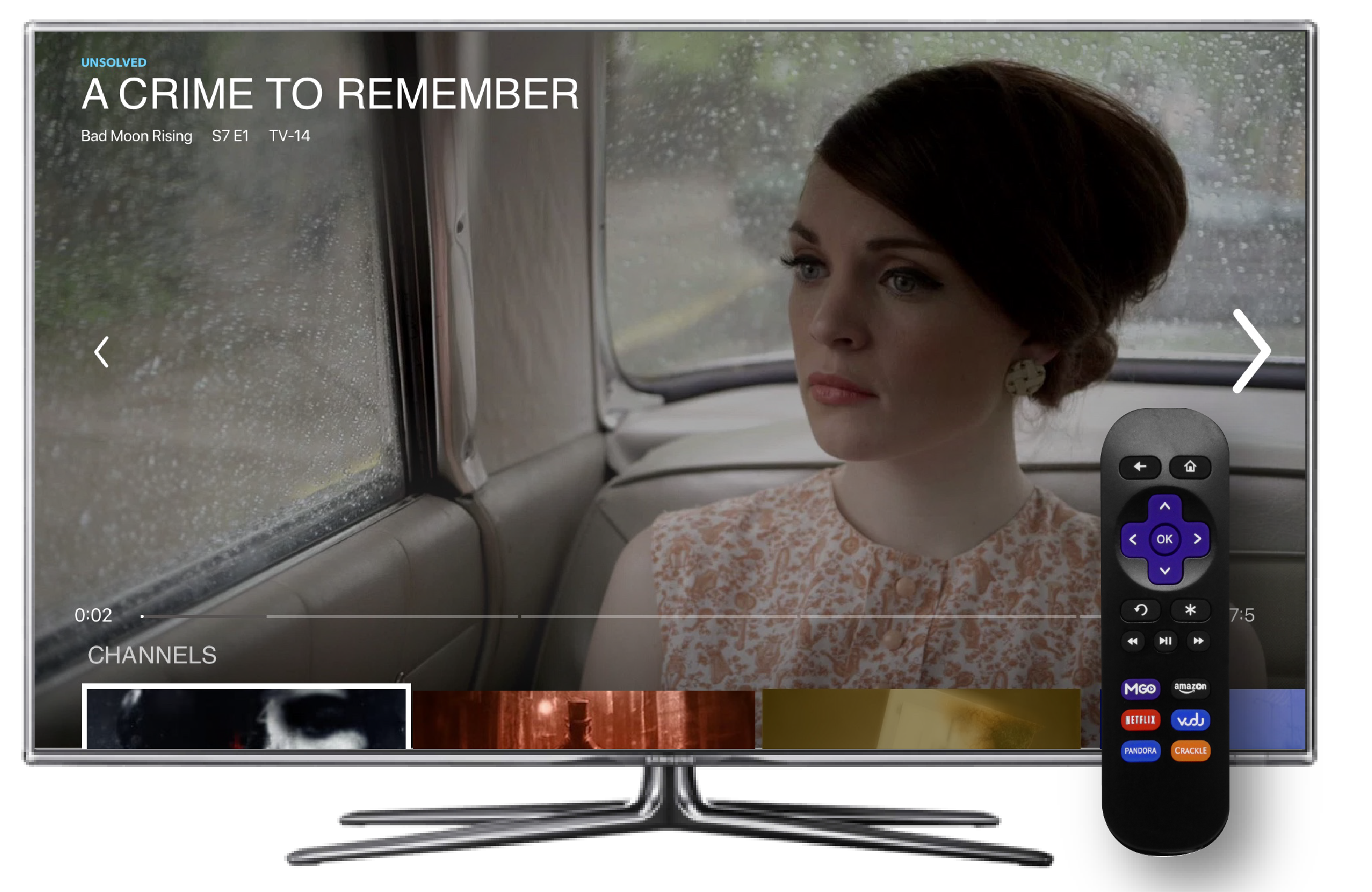 NAVIGATING YOUR CHANNEL
Within the video player, the user can navigate the feature using the Roku remote to go to the next piece of content and to access the channels carousel in the video player itself.

The user can simply return to the "Channels" page by pressing the︎button on the Roku remote.



FEEDBACK & REFLECTION
My partner and I pitched our feature to the Digital Product Design team at Discovery and received positive feedback on our design.
Some areas for future advancement would be to investigate opportunities to create personalized channels and expanding the feature beyond the four channels. But, until then!